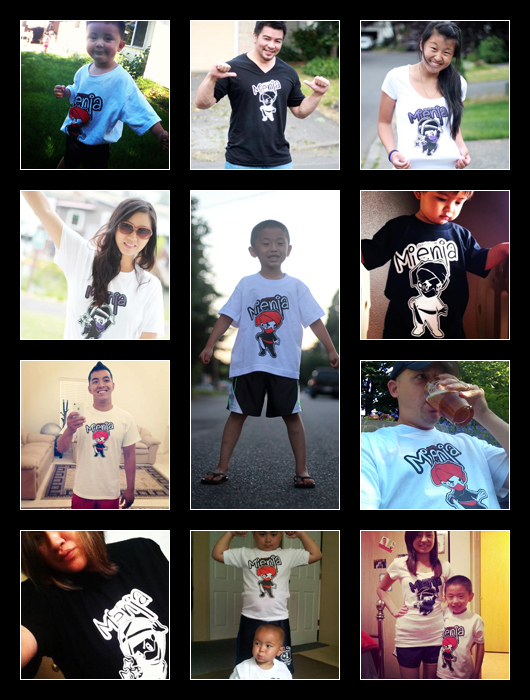 First of all, thank you to everyone who has purchased Mienja T-shirts! Thank you so much for your support!
I introduced the "Mienja" project on Facebook back in January 2012, but just recently started printing and selling the actual T-shirts. While the project has been very well-received, I came across a comment a couple weeks ago that questioned the definition of "Mienja" and the concern about how the term could potentially confuse those who don't know about the Mien people.
First of all, if it isn't obvious, the term "Mienja" combines the words "Mien" and "Ninja," which is simply a play on words that evolved into cartoon characters. Wikipedia defines "Ninja" as "a covert agent or mercenary in feudal Japan who specialized in unorthodox warfare. The functions of the ninja included espionage, sabotage, infiltration, and assassination, and open combat in certain situations." Scary! Now, who would want to be associated with such an antagonistic character, right? Well, think of the training one would have to go through in order to obtain the legendary skills of a Ninja. "Some abilities purported to be in the province of Ninja training include invisibility, walking on water, and control over the natural elements." I don't know about you, but invisibility and walking on water is pretty damn cool!
It's great to be knowledgeable about what Ninjas were in feudal Japan, but we're in the 21st century so forget about all that negativity for a moment and think about the modern day, western Ninja, i.e. the Navy Seal. In almost every way, Navy Seal agents are trained and programmed to function just like Ninjas. They both possess combat skills at the highest level and both practice infiltration and assassination (when necessary) in combat situations. It takes a lot of discipline, dedication, and training to be as skilled as a Navy Seal agent or a Ninja. Being associated with or compared to these professionals with such legendary skills should actually be taken as a compliment. It's an honor.
Ninjas (and Navy Seals) are well-known. In comparison, the Mien people are virtually unknown to the world. So, by combining "Mien" and "Ninja" to form a word that people don't know, they might ask you what it means when they read it. When they do, if you know your Mien history, it will be your opportunity to educate them on who the Mien people are.
Finally, my intent was to create more awareness by associating Mien with the modern perception of what a Ninja is; cool, skillful, specialized, and masterful. If you're reading this and you still think that the term "Mienja" is a "no no" because it's negatively connecting the Mien people to an antagonistic character, please don't take it too seriously. After all, it's just a cartoon =)
UPDATE: Just thought I'd post the picture below to support the harmlessness of associating anything with "Ninja" in the modern world. It was on the side of the very bus I was riding on during lunch so I took a picture of it.